The Discharge Status section on the right gives the user an overview of the person's current location, admission date and expected discharge date.
For further information, the user can select the 'Discharge Status' from the left-hand side navigation menu, and a new page will open as follows:

The patient header at the top will display the person's demographics.
The two sections below will give the user information on
The Current episode of care.

The referral discharge status flag (Red, Amber, Blue or Green).
Details of the hospital admission and expected discharge date.

Discharge linked referrals

A list of related referrals created via the Discharge Service.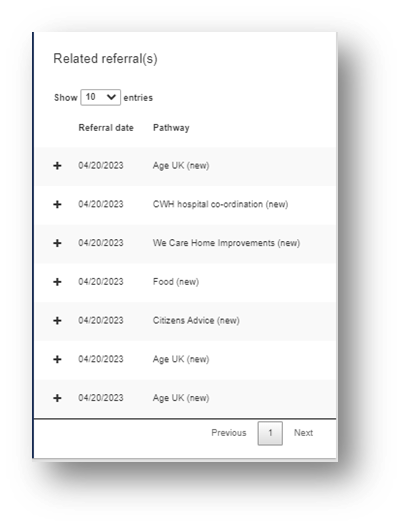 View combined timeline. This is a view of the combined timeline events related to the discharge across all referrals for the person in the hospital.
Please Note: The user can see a list of related referrals. However, if they do not have permission to access another pod, they will see the referral listed but not be able to view the details of that referral.