This section explains how to use the app to record the outcomes of immunisations. At the bottom is a video walkthrough of how to do this.
Select a child
From the Clinic Page, click on the clinic (e.g. Hayesdown First School) and then select a child (e.g. Tina Topping) – see 'Patient's summary demographics' below.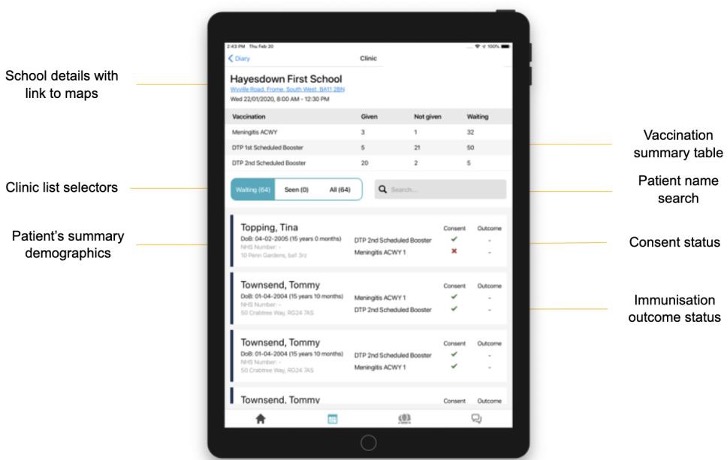 Immunisations consultation page
When a child is selected, you will see the referral information for that patient and a demographic header.
This includes the following fields: Child details, Parent details, Clinical triage, Consent details and Outcome. The detail forms are not editable but the outcome forms are and have green circle icons.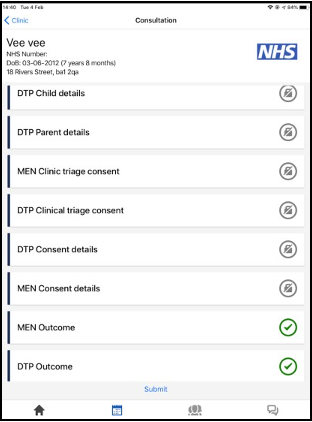 Consultation Page icons
The following icons will appear on the Consultation Page.
| | | |
| --- | --- | --- |
| | Uneditable text | This means the form is read only and cannot updated. |
| | Completed fields | This means that all of the mandatory fields on the form are complete. |
Viewing consent details
It's easy to click on this part of the form to view the consent details provided for the child.
Creating an immunisation outcome
To record the outcome of an immunisation, an outcome form for the correct immunisation type needs to be completed.
Click on the 'Outcome' field and complete all the boxes here. This includes:
Vaccination given: Yes / No (Reason not given)
Site: Left arm / Right arm / Nasal
Batch number
Clinical notes
Clinic time (defaults to current time)
Then click 'Submit'.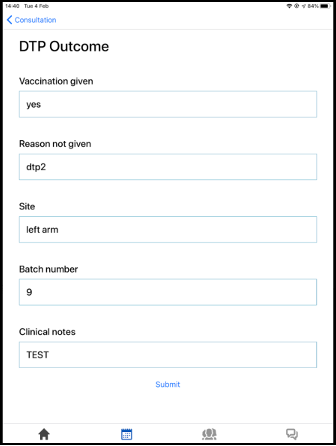 Submit consultation outcome
Once you have filled in the Outcome details, click 'Submit' on the immunisation consultation page and you will receive a 'Sent Consultation Outcome' message.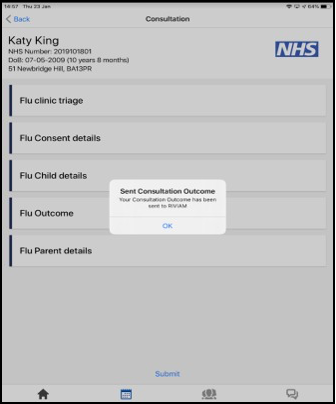 Video walkthroughs:
The following video shows how to:
View a clinic
Select a child within a clinic
Fill in the vaccination outcome form
Submit the form
Review the vaccination summary table (waiting, seen, all)