RIVIAM Login
Receive activation email 
Users will be sent a RIVIAM activation email. The email contains an activation code as shown below: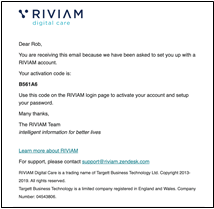 Please note: if you haven't received this email (and it's not in your junk mailbox), please contact support@riviam.zendesk.com.  
Activate your RIVIAM account 
To activate your RIVIAM account on https://wf2.riviam.com/, click on "activate a new code" below the login details (as shown in figure 2).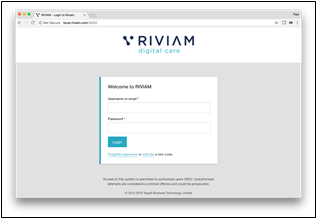 You will then need to enter the below details and click "Activate":  
Username / email address

  
Activation code (from the activation email)

  
Mobile number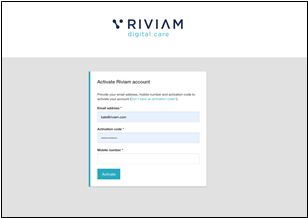 The next page will allow you to set a password.   
Login to RIVIAM 
Once your RIVIAM account is activated and password is set, you can then login by entering:  
Username / email address

  
Password.

  
  Gaining access to different functions in RIVIAM
RIVIAM manages access to RIVIAM functions by using role-based access. Each action taken by a user is controlled by what group they have assigned to their role. Role assignment is performed by your RIVIAM administrator or by RIVIAM